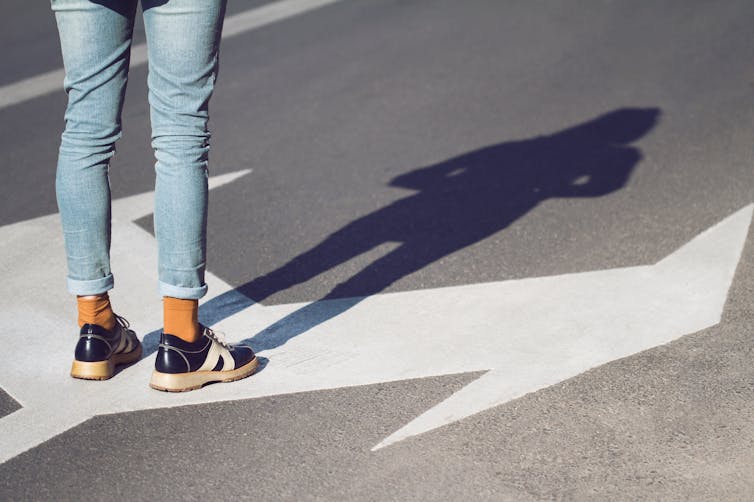 It's likely that the proportion of top A-level grades awarded in England this year will go down this year. The government wants to combat "grade inflation" and align results with those handed out in 2019, before the pandemic.
COVID-19 disruption, cancelled exams and teacher assessment meant that more high grades were given out in 2020 and 2021. In 2022, fewer top grades were awarded than in the two previous years, but still significantly more than in 2019.
All this means that if you are a student receiving your results the grades you get may be not be what you hoped. Perhaps they are lower than the offer you received from a university. Perhaps you don't feel they reflect the hard work you've put in. So – what should you do?
You've probably be advised to stay calm and not panic. But back when I was in a similar situation I can recall how difficult it was to feel anything positive about the future, so my first piece of advice is this: allow yourself to be upset.
Not getting the results you want is disappointing and you should feel free to express that fury, sadness and frustration. Have a shout, cry, write down how you feel, whatever works for you. If you feel that you can't cope, please ask for help.
What to do
Once you've had a chance to vent, get ready to act – because you have options.
Talk to your teachers: Go into school or college and ask for a meeting with them. Your teachers know you better than you think and they certainly understand you as a learner. They know what you are capable of and they can give you objective advice that you can trust. This might include looking for a university course through clearing.
Talk to your prospective university: If you held a conditional offer for a university place and didn't get the required grades, give the admissions office a call. They may still be able to accept you on to the course, or offer you a place on another course.
Get your grades checked: If you really think that one or more of your grades are wrong, you can ask for your scripts to be checked. Firstly, talk to your school – you will have an examinations officer who can advise you on how to go about checking your results. If you (or your parents) want to know more, you can contact the exam boards – all of the contact details you need are here.
Avoid doom scrolling: Remember that social media is not reality. Scrolling to see groups of students literally jumping for joy, posts about getting in to university, or celebrities promising that they failed everything and still did alright, is unlikely to be positive for your mental health.
Ask yourself – "how will this help me today?" If you can, stay off social media on results day and seek solace with family and friends who know you and can support you in genuine ways.
Looking forward
You might have been focused on a dream course at a dream university, and feel that if you can't go there, everything is ruined. Well, there are other dream courses and universities, and your grades today might point you in a direction that you have never considered before.
What's more – you don't have to go to university right now. The truth is that challenges and failures also provide opportunities in life. Maybe it's the time to take stock, give yourself a year out, get some careers advice, volunteer, or try some different types of employment.
And, if you are still interested after a year (or two), it's important to know that universities are also interested in students with some life events beyond school under their belts, as well as those with top grades. Trust me, this was my experience.
You are not the grades you received this year. You never have been and you never will be, because those grades only represent a tiny point in time relating to the creative, brilliant, thinking, knowing and complex individuals we all are at different points in our lives.
The focus on qualifications has reduced that rich experience of school education into a means of dividing young people into spurious groups which can never fully define you.
Take your courage in both hands and try to see it like this: not better or worse, just different.
Mary Richardson, Professor of Educational Assessment, UCL
This article is republished from The Conversation under a Creative Commons license. Read the original article.