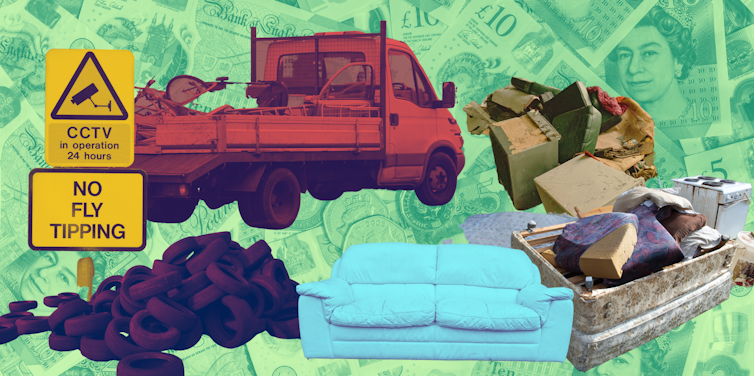 Sankar Sivarajah, University of Bradford and Banita Lal, University of Bradford
If you venture out to the countryside, the chances are you've probably seen piles of rubbish, anything from fridges to frying pans, rubble to refuse sacks dumped at the side of the road or in laybys. Waste crime is serious, hazardous and on the increase. Often referred to as "fly-tipping" it includes the illegal dumping of rubbish on private or public land or in water. It looks terrible and can have serious effects on the environment.
In the UK, local authorities dealt with more than one million fly-tipping incidents between 2020 and 2021, which is an increase of 16% from the 980,000 incidents reported the previous year. Approximately 65% of this illegal dumping involved household waste.
According to a recent study, the significant rise in fly-tipping can partly be attributed to the lifting of regulations after the COVID pandemic. When stricter lockdown laws were in place and the risk of being caught fly-tipping was greater because there were so few people out and about, there was a noticeable decline in illegal waste dumping across the country. The closure of many businesses also resulted in less waste being produced. But once lockdown laws were relaxed, the volume of rubbish and fly-tipping in urban areas increased as there was a large backlog of waste that had built up during the pandemic.
Another contributing factor is thought to be the increase in Landfill tax. This is an environmental tax imposed on businesses that dump waste at landfill sites. It has increased from £7 per tonne in 1996 to £102 per tonne from April 2023. The rate has increased faster than inflation and with the cost of living crisis, some businesses are choosing to avoid paying the tax altogether. Instead, they are opting for illegal waste dumping services run by criminals.
Why this is happening
For criminals, the gains from fly-tipping are attractive. James Bevan, the chief executive of the Environment Agency has even gone so far as to say that the rewards are as high or higher than robbery, drug dealing or contract killing.
Indeed, waste crime has even been dubbed "the new narcotics" because of the way it's damaging communities and the economy. The profits come largely at the expense of the taxpayer, with fly-tipping estimated to cost up to £392 million a year.
It's also relatively low risk, in terms of both being caught and punished. Under UK law, there's currently no minimum fine set out for unlawfully depositing waste. The sentences for individual cases are decided by independent courts but penalties can include fixed penalty notices and having a vehicle seized. Householders can also be fined up to £400 if they pass rubbish on to an unlicensed waste carrier which is then fly-tipped. Though in some instances fly-tippers can face prison.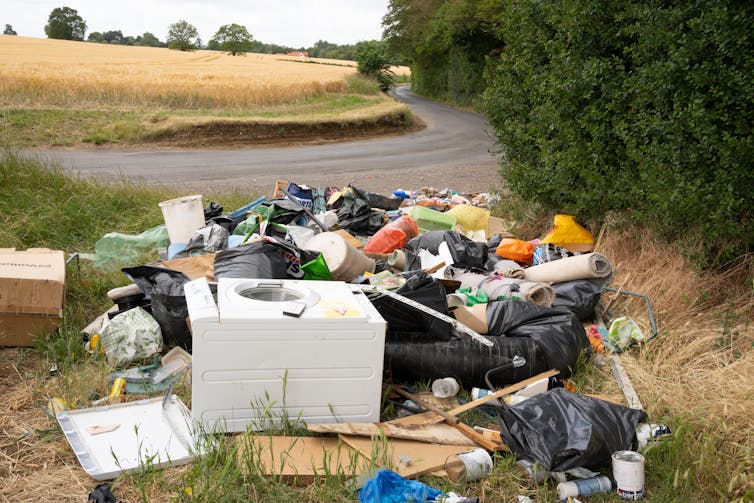 Earlier this year, the UK's Environment Agency reported that they issued fines of £1.1 million for illegal waste sites and recovered more than £5.5 million from criminals involved in fly-tipping. But compared to the actual cost of rectifying such crimes, these penalties seem negligible.
The current waste licensing system is also open to misuse. Certain low-risk and small-scale waste activities such as the recovery of scrap metal can operate under a waste exemption which means there isn't the need to hold an environmental permit. These exemptions can be registered with the Environment Agency at no cost and do not require verification. This means criminals posing as, say, scrap metal dealers can register for exemptions and then illegally dispose of waste without the correct permits.
How you can help
Prevent waste creation: We need to be mindful of what we consume and the waste we create. Use reusable coffee mugs, buy cards and loose produce without plastic packaging. Invest in durable items. This is important because consumer behaviour and demands shape business actions.
Stop throwing things away: Good quality items can be donated to local charities and go to a new home, so move away from the throwaway culture and help with the transition to a circular economy. Buying and selling pre-owned items such as clothes is also now much easier with online marketplaces such as Ebay, Vinted, Re-Fashion, Depop and Preworn.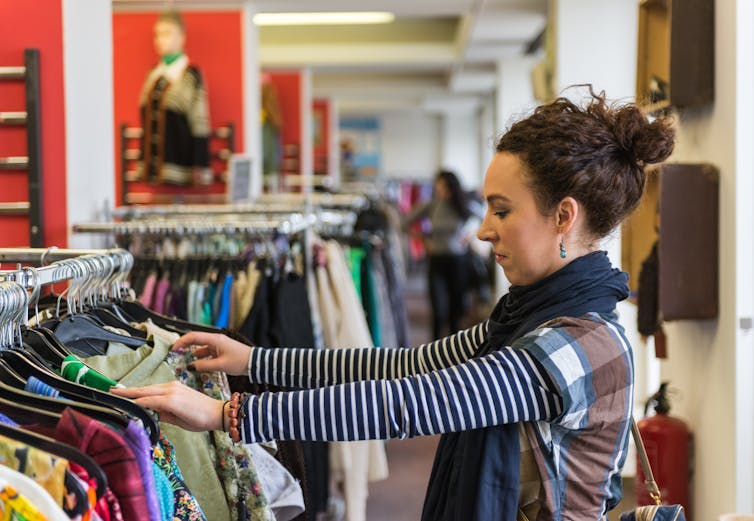 Be the hero neighbour: Many communities are part of a "neighbourhood watch" scheme which can help to spread awareness and let people know if illegal fly-tipping gangs are operating locally. You can also go online to report instances of fly-tipping near you. And because waste attracts more waste, it's worth leading by example to help clear existing dumps – you can use social media to spread the word and get others involved, too.
Responsible waste disposal: Next time you need to get rid of an old sofa or cooker, contact your local council to arrange collection and the safe dispose of such items. Do not rely on "scrap men" to take things away in their vans: some items will not have a resale value and will be fly-tipped – meaning the householder, without knowing, also commits a crime. If you do need to use middleman services, check where your waste will be taken and what records you will receive to show it was managed legally.
Sankar Sivarajah, Professor of Technology Management and Circular Economy, University of Bradford and Banita Lal, Associate Professor in the School of Management, University of Bradford
This article is republished from The Conversation under a Creative Commons license. Read the original article.